Hello
Right, let's get down to the stuffing your either a meat stuffing lover or your usual Paxo kind of stuffing lover which there is nothing wrong with that at all.
I have been using this recipe for the past 11 years ( I had to really work that out ) it came from Jamie Oliver when he used to do his get ready for Christmas Tv shows.
It has always been a firm favorite in my house and is great for leftovers on boxing day with cold meats and cranberry sauce sandwiches, " it's making me hungry for one right now" Focus,
Pork, Apricot, and Chestnut Stuffing
Stick with it I love it and I make it up to two weeks before and then pop it in the freezer ready for the big day.
You will need
25g butter/ olive oil
2 rashers of smoked bacon chopped
2 large red onions peeled and finely chopped
sea salt and fresh black pepper
100g pre-cooked vacuum-packed chestnuts roughly crumbled
a small bunch of rosemary leaves
a small bunch of fresh thyme leaves
a small bunch of sage leaves
a handful of dried Apricots (any from the baking aisle of any supermarket will be fine)
750g pork sausagemeat
1 egg yolk
250g stale white breadcrumbs
First things first melt the butter in a large saucepan with a drizzle of olive oil over a medium heat, add the chopped bacon, fry gently for a few minutes then add the chopped onions, continue to fry for a further 15 minutes until the onions are soft then season with a good pinch of salt and pepper. Crumble in the chestnuts and cook for a further 2 minutes. Then spoon the onion mixture onto a plate to cool.
Once the onion mix is cool add it to a big mixing bowl.
chop the rosemary, thyme, and sage leaves and add them to the cooled onion mixture along with the chopped apricots, pork and egg yolk. add the breadcrumbs and season well with salt and pepper.
Using your hands (the best bit) or a wooden spoon, bring the stuffing mixture together into a big ball then either make stuffing balls or like me I use a loaf tin fill the loaf tin up and then with any leftover mixture make up balls.
I DO NOT COOK THESE AT THIS STAGE I WILL PUT THEM IN THE FREEZER TILL IM READY.
Preparing ahead
I place all the stuffing balls on a tray with cling film evenly spread out once they are hard I then place them into a large sandwich bag, which will help when you want to remove them as and when you need them.
Stuffing mixture into a loaf tin instead of the loaf tin use a disposable takeaway aluminum tin that you can get from the pound shop, B&M etc. that will be easier just pop the mixture in and then label it up and pop it in the freezer till you need it.
Christmas eve I always get the stuffing I need for the big day out of the freezer and leave it in the fridge. I always find this recipe makes a fair bit that's why I like to make stuffing balls as well so we can enjoy them for a few weeks after Christmas too.
Cook these for around 40 mins on 180'c I usually put them in with the roasties and pigs n blanket so I can keep an eye on them all.
So that's the meaty stuffing taken care of if you would like something more traditional how about a Homemade sage and onion stuffing.
Sage and Onion
450g onions,
roughly chopped
300ml water
75g butter, plus extra
for greasing
1tbsp fresh sage,
finely chopped
225g fresh white breadcrumbs
Salt and freshly ground black pepper
Preparing ahead:
Method:
Preheat the oven to 190'c/fan 170'c/Gas 5
Put the onions and water in a pan, bring to the boil and simmer
for 15 minutes. Drain well.
Stir the remaining ingredients into the pan and mix well. Allow to cool completely if you are going to use it to stuff the neck of the goose or turkey.
To cook the stuffing separately – which I much prefer – spoon the mixture into a shallow, buttered ovenproof dish and bake in the preheated oven for 25-30 minutes until golden and crisp.
Make
 the stuffing the day before, then cover and keep in the fridge. Cook on the day as directed.
Or you can cook the stuffing in a dish, cool it, keep in the fridge overnight
and reheat the following day. The prepared stuffing can be frozen.
Thaw overnight at cool room temperature and cook as directed.
Or freeze the baked stuffing in its dish, thaw overnight at cool room temperature and reheat as directed.
And if that is not enough for you how about this one from Mary Berry
Apricot and Chestnut stuffing
1 large onion, coarsely chopped
225g/8oz dried apricots snipped into small pieces the ones from the baking aisle of any supermarket.
225g/9oz fresh white breadcrumbs
75g/3oz butter or olive oil
225g/8oz frozen chestnuts, thawed, roughly chopped
generous bunch fresh parsley, chopped
salt
freshly ground black pepper
Method
Preheat oven 200C/400F/Gas 6. Butter a shallow ovenproof dish.

Add 600ml/1 pint water into a pan with the onion and apricots. Bring to the boil, then reduce the heat and simmer for about five minutes. Drain.

Put the breadcrumbs into a large bowl. Melt the butter in a frying pan and pour half of this onto the breadcrumbs.

In the remaining butter, fry the chestnuts over a high heat until lightly browned. Tip into the bowl with the breadcrumbs. Add the apricots, onion, and parsley to the bowl. Season with salt and pepper.

Turn into a buttered, shallow ovenproof dish and bake in a preheated oven for about 25-30 minutes until crisp and hot right through.
Again you can make these before the day and freeze them then just remove them the night before.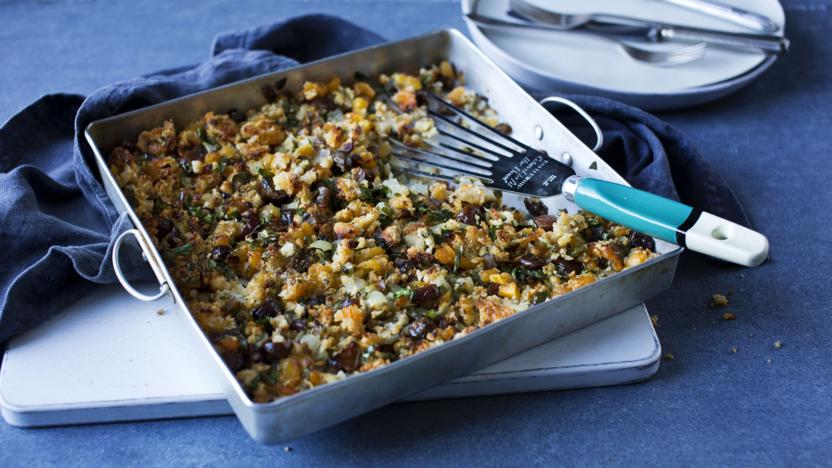 The full printable recipe on the BBC food website photo is from there too as I have not got a photo PRINT HERE
Well, I'm stuffed with all these now hope you have got something from these that can make your Christmas that bit more special or if you just want to make a normal Paxo box of stuffing they do have a very good selection this time of the year.
I hope you have got some inspiration from this blog post if so please give it a like and leave me a comment.
Lastly, Thank you for taking the time to read my blog
Love Claire Xx
#clairescosylittlechristmas